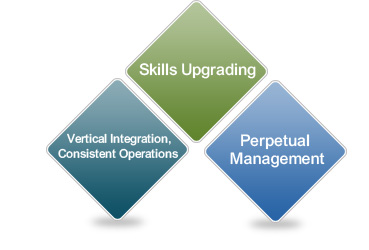 Quality Policy: Vertical Integration, Consistent Operations; Skills Upgrading, Perpetual Management
J&T Glory International Co., Ltd. (J&T) was founded in March 1987, co-founder Mr. Y.H. Lin, Mr. Y.J. Wong, and Mr. Y.Z. Chen devoted into the field of PP&PE woven bag machinery for more than 30 years. Mr. Y.H Lin was one of the main founders of Dong Shiuan Enterprise Co., Ltd., which was the manufacturer of circular woven machine in 1980s. Mr. Weng and Mr. Chen were also joined into Dong Shiuan Enterprise Co., Ltd. in the late 1980s, and became a major R & D technologist and the highest person in charge of factory affairs.
Since 1987, J&T has specialized in research and development, improvement of PP&PE woven machinery, and PP/PE woven bag production. To 2008, J&T was moved to No.56, Chenggong St., Minsyong Township, Chiayi County, Taiwan for the expansion of the operating range. In July 2009 to enhance the business synergy, J&T merged with the affiliated companies Glory Plastic Co., Ltd. Main Business:
A.Chiayi factory:Plastic mold development; Manufacture and sale of plastic pipes (including ABS, HDPE, PVC pipes), accessories of pipes.
B.Dapumei Factory:
a.Mechanical Department: Manufacture and sale of Circular Looms.
b.Bag Making Department: Manufacture and sale of flat yarn, woven fabric, paper-plastic lamination fabric, tubular bag, cement bag, and etc.
It is worth emphasizing that J&T is the professional manufacturer of PP&PE woven bag machinery, and also PP/PE woven bag production. J&T is a specialist in the WHOLE PLANT EQUIPMENT as well. To help clients plan whole plant equipment for the production of chemical material bag, PP/PE woven bag, cement bag, etc., such as Flat Yarn Extrusion Machine, Circular Weaving Machine, Laminating Machine, Bag Making Machine, and Bag Sewing Machines; as well as for the plastic pipe and accessories of pipes (including Extrusion Machines, Injection Machines, and the Supporting Mold). In the efforts of all the colleagues for more than 20 years, the company's image and product quality have fully recognized by the market, and has established a good reputation.
Sincereness, Service, Quality, Innovation, Efficiency are J&T's philosophy. We will dedicate to customer service with these spirits, and continue to provide the products to meet customer needs and suit for law and regulation.